Air Duct Cleaning Services in Seattle, WA
You Can Trust Our Air Duct Cleaning Equipment and Team Members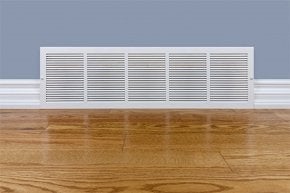 No matter how clean your building may seem, your HVAC systems will inevitably collect various contaminants over time. From pet hair and dander to mold and mildew, all types of debris should be kept clear from air ducts. Olson Energy Service's Seattle, WA air duct cleaning company can come to your location, remove these materials from your ducts, and help you enjoy the variety of benefits that a cleaner system provides!
How To Tell When You Require Our Air Duct Cleaning Services
Fortunately for you, it isn't hard to tell when you need air duct cleaning services. As a homeowner or business owner, you can perform a few simple tasks to ascertain whether it is time to clean the ducts. We recommend pulling the vent covers to check for dust, debris, or dirt. You can also examine the return air registers for dust buildup – which will often look like thick, fuzzy buildups. Checking the air filter, furnace components, and more are all great ideas.
The Benefits Of Investing In Air Duct Cleaning
There are numerous benefits to investing in air duct cleaning services. For instance, dirty air ducts circulate a tremendous amount of pollutants throughout the building, leading to health issues. Eradicating the materials from your ducts will result in better air quality, less sneezing, and increased comfort. Your HVAC system will also thank you because it will run more efficiently with a good scrub of the ducts. Without as many impediments, air will filter throughout the home more efficiently. Additional benefits include:
Cleaner and more breathable air throughout the building
A more energy-efficient system and lower costs on monthly bills
Extending the life of your HVAC system
Reducing allergy symptoms that can be caused or exacerbated by poor air quality
Contact Us Today To Schedule A Consultation
No matter what your needs are, you can count on the experts at Olson Energy Service to get the job done right the first time. We are experienced, knowledgeable, and passionate about what we do. To learn more about air duct cleaning, we encourage you to contact our professionals today. We'd be glad to give you more information and schedule an assessment appointment. We pledge to provide you with the customer support you deserve.
Why Choose Us?
Family-Owned & Operated
Serving The Greater Seattle Area Since 1926
Experienced & Reliable
Exceptional Customer Service
License, bonded & insured
Factory-Trained, Certified Technicians
Drug-Free Company