Air Conditioning Repair and Installation in Seattle, WA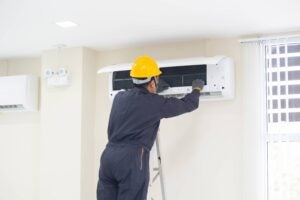 Proper maintenance of your air conditioning system is essential for ensuring that your home continues to stay cool and comfortable all summer long. Olson Energy Service can handle every aspect of your air conditioning maintenance, from checking everything inside your home including the thermostat to your outdoor units. We can also troubleshoot any problems you're having with your home's HVAC system and provide you with reliable, professional repairs. Our team offers five days a week, to ensure that you and your family are never left without working air conditioning during the warm summer months in the greater Seattle Area.
If your air conditioning system is providing you with subpar performance, or if it is more than a decade old, you might want to consider a full replacement. Olson Energy Service offers the installation of brand new heating and cooling systems. Our factory-trained technicians are fully licensed, bonded and insured, so you can always count on prompt and professional service when you work with our team.
Olson Energy Service can help you find the best air conditioning system, and we will troubleshoot your current system if you are experiencing any problems. We have been proudly serving the Seattle community for more than 50 years. Our team of HVAC experts is ready to provide you with the quality repair, maintenance, and installation services that you require.
Air Conditioning Services and Products We Offer
Air conditioning repairs: If you're having trouble with your current system, our licensed, bonded, and insured technicians will do a thorough inspection, diagnosis, and repair.
Air conditioning system installations and replacements: If you're dissatisfied with your current system's performance, or if you've recently moved and need a modern air conditioning system installed in your new residence, we can help you choose a new model and install it for you.
Air conditioning system maintenance and tune-ups: Routine maintenance is critical to ensuring that even the best HVAC systems continue to perform at top capacity. We'll do routine inspections and repairs to keep your air conditioning system running efficiently.
Air filter changes: Regular air filter changes will help to keep your system clean, and they will also ensure that your system keeps running as efficiently as possible. It is also imperative for keeping allergens out.
In addition to our air conditioning maintenance, repair, and installation services, Olson Energy Service can install these products below as well.
Humidifiers: Humidifiers increase the humidity level inside your home, which can be extremely beneficial for people who have allergies, dry skin, and other issues worsened by dry air.
Ventilators: Ventilators improve the quality of your indoor air by releasing fresh air into your home and removing stale air.
Germicidal UV lamps: Germicidal lamps use ultraviolet radiation to safely kill as much as 99.9% of the mold spores, viruses, bacteria, and other contaminants that get into your HVAC ducts.
Air purifiers and electronic air cleaners: These devices remove pollutants and allergens from your indoor air, making it safer for you and the other residents of your home to breathe.
Common Air Conditioning Problems
When there is an issue with your air conditioning system, you will want it taken care of as soon as possible. Olson Energy Service offers services for all of your HVAC issues in your Seattle home. These are some of the common air conditioning problems our skilled technicians can respond to:
Low or leaking refrigerant.
Dirty air filters or air conditioning coils.
Faulty wiring.
Thermostat malfunctions.
Burned-out compressor.
To schedule an in-home consultation with Olson Energy Service anywhere in the Seattle area for installation services, call us at (206) 782-5522.
Why Choose Us?
Family-Owned & Operated
Serving The Greater Seattle Area Since 1926
Experienced & Reliable
Exceptional Customer Service
License, bonded & insured
Factory-Trained, Certified Technicians
Drug-Free Company