FURNACE REPAIR IN SEATTLE & BALLARD, WA
OLSON ENERGY SERVICE PROVIDES HIGH-QUALITY FURNACE REPAIR SERVICES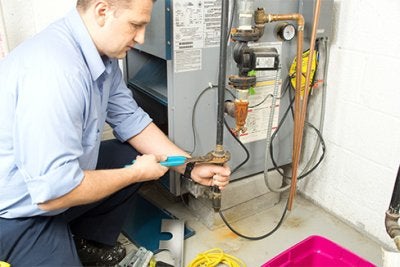 When your furnace stops working, it is essential you call on a team dedicated to offering professional furnace repairs. The team at Olson Energy has trained and studied all makes and models of furnaces to best serve our Seattle and Ballard, WA community. Whether in the home or the office, we have the tools and experience to get your furnace working again swiftly. Keep your home and business comfortable by relying on our skills and professionalism. The temperatures in Washington stay pretty cool throughout the year, so having a properly functioning and well-maintained furnace is vital. It's not just about comfort when the snow begins to fall; it's about the safety of your family and employees. Give us a call today for the best furnace repairs possible. Make sure to ask about our regular maintenance services as well to keep your appliance protected.
We Offer Furnace Repairs on All Makes and Models
No matter if you have an older model or you have recently upgraded to a more modern furnace, the professionals at Olson Energy have you covered. We train all our technicians how traditional furnaces work as well as keep them updated on innovations within the industry. We also ensure they are equipped to handle any issues by supplying them with the best tools available. They get the job done on the first trip and don't waste time with multiple trips back and forth. We understand how imperative it can be to get your heat back on and running, which is why we work so hard to complete the job correctly the first time.
Signs Your Furnace Needs Repairs
You may not be able to recognize precisely when you need furnace repairs, but the longer you let small issues go, the larger the problem will grow. It could lead to more expensive repairs or worse, a premature replacement. To help you identify issues with your furnace, the professionals at Olson Energy have listed some warning signs as to when you should call us:
Discolored Pilot Light: This may be a difficult one to find, but if you are having issues with your heat, this may be the first place to check as well. Your pilot light should burn blue. If any other color, please give Olson Energy a call for furnace repairs.
Strange Sounds: Most furnaces, even newer ones, will make noises while operating, but if you hear anything over a slight hum, there may be issues a professional should check out to safeguard you from further problems.
Odd Odors: When you feel the warm air coming through your vents, it shouldn't be accompanied by odd smells. In fact, it should be odorless. If you smell anything coming through the vents, it's time to call our technicians. There could even be an issue with carbon monoxide.
Leaking from Unit: If you spot water gathering around your furnace unit, you must give us a call. Our team will inspect the unit and surrounding appliances to discover where the leak is coming from and devise a plan to deliver repairs.
Uneven Temperatures: When you set your thermostat, you should expect this temperature throughout the home and office. If you notice your kitchen is colder than your bedroom, schedule a visit with Olson Energy. This may not be an issue with your furnace per se, but we will inspect your unit.
Inability to Reach the Desired Temperature: Your thermostat dictates the temperature you desire in your space. When your furnace can't reach the warmth you require, Olson Energy is here to help. We will not only make sure our repairs help you get those temps but also ensure your furnace does it efficiently to help save you money.
Should You Repair or Replace Your Furnace?
Having a trusted professional such as Olson Energy on your side is imperative when you are looking to save money with your furnace repairs. With our services, we can help safeguard you from replacing your unit unless absolutely necessary. We treat replacement as a final option and will do everything we can to save you from this unexpected expense. Below are some of the reasons you will need to replace or should seriously consider it:
Your furnace is more than 15 years old
The cost of furnace repairs exceeds 50% of the cost of a replacement
You receive increasingly higher heating bills
Your home does not heat as quickly or efficiently as it once did
You need frequent furnace repairs
Reach Out to Olson Energy Today for Professional Services
We are the number one team of professional technicians to call when you are having heating issues within your home, office, or other business. Well-trained, licensed, and insured, our HVAC technicians are ready to work with you and help get the heat you need to stay cozy, and more importantly, safe all year long. We also offer a multitude of other HVAC services to help with your air conditioner, water heater,  electrical services, and more! To help even further with costs, we also offer many different coupons and discounts to help when these unexpected issues pop up in your home or business.
Why Choose Us?
Family-Owned & Operated
Serving The Greater Seattle Area Since 1926
Experienced & Reliable
Exceptional Customer Service
License, bonded & insured
Factory-Trained, Certified Technicians
Drug-Free Company