Electrical Outlet Replacement in Seattle, WA
Our team at Olson Energy Service has been providing quality services to the community in Seattle, WA for nearly a century. Olson Energy Service is family-owned and operated. For nearly 100 years, we have passionately followed our grandfather's motto: We are here to serve. We have become an established pinnacle of the energy industry in Seattle. Our comprehensive services range from electrical outlet replacement to oil furnace replacement. For our quality and trustworthy services performed by trustworthy experts, choose Olson Energy Service today.
When Should Outlets Be Replaced?
Often people wonder what's a sign or signal that they should replace their outlets. Outdated or damaged outlets can be very dangerous and should be replaced as soon as possible. If you are unsure if the outlet is damaged or outdated, or if you notice any of the following occurrences, contact our expert electricians right away:
Electrical outlets are discolored
Electrical outlets malfunction or cease to work at all
The outlets start to warp
The outlets are extremely old or haven't been maintained in many years
Electrical outlets are loose
If appliances plugged into the outlet flicker
If you have any two-pronged outlets
Electrical outlet replacement services can provide you and your family with a renewed sense of safety and comfort. Don't hesitate to contact us if you feel that you're in need of these services.
Electrical Outlet Replacement by Olson Energy Service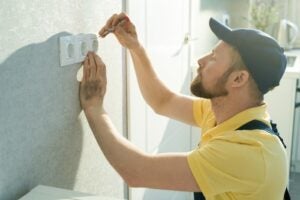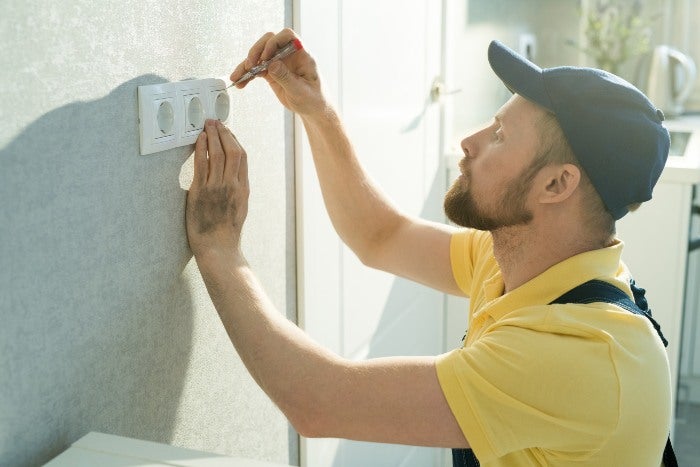 Even though broken or nonfunctioning electrical outlets can be frustrating, you don't have to be frustrated for long. Olson Energy Service provides thorough and efficient electrical services including electrical outlet replacement. For both safety and convenience, repairing outdated outlets is crucial. Reduce the risk of electrocution and electrical fires by contacting our experts at Olson Energy Service. We can repair or replace your electrical outlets in a timely fashion and for an affordable price.
Importance of Outlet Repairs
Electrical outlet replacement and repair services are crucial to the health of your family and home. Electrical outlets are frequently used, which causes a considerable amount of wear and tear. When electrical outlets are outdated, it reduces the safety of your home and increases the risk of electrical fires and other hazards. If there is an issue or malfunction with your outlets, they also need to be repaired or maintained right away.
Our team can quickly and efficiently provide you with essential electrical outlet repair services. Call us for an inspection if you feel that your outlets could use a professional eye to see what the cause of malfunction could be. We are passionate about providing our customers and clients with safe electrical systems that they don't have to worry about.
Electrical Outlet Wiring
An additional concern when it comes to electrical services in the home is the electrical outlet wiring. In some cases, if the outlet is malfunctioning, it might be the result of faulty or outdated electrical wiring. When you use our services, we will be able to discern whether the fault is in the outlet or the wiring. If the electrical wiring in your home has issues, needs repairs, or needs to be replaced, that is an important discovery to make, as faulty wiring increases the chances of electrical fires and electrocution. These risks are poor ones to make as fire and electrocution often result in serious injury or fatality. Make your home safe once again with our electrical repair services.
Our Highly Skilled Electricians
Our electricians at Olson Energy Service are highly trained and credible experts who are passionate about providing the best service to their fellow community members of Seattle, WA. When you choose our electricians, you can expect:
Timely and knowledgeable services
100% satisfaction guarantee
A clean and virtually untouched work area
A clean home as we wear booties or remove our shoes before we enter
Quick and efficient service as we bring all of the tools/parts that we need to perform our services
Choose Olson Energy Service Today
When you choose Olson Energy Service for your electrical outlet replacement needs, you choose expert electricians and a company that has provided these essential services to Seattle, WA for nearly a century. Our other reliable services include:
You can learn more about our wide range of services in Seattle, WA when you contact our team today!
Why Choose Us?
Family-Owned & Operated
Serving The Greater Seattle Area Since 1926
Experienced & Reliable
Exceptional Customer Service
License, bonded & insured
Factory-Trained, Certified Technicians
Drug-Free Company