Heat Pump Installation & Repair Services in Seattle, WA
With the moderate climate of Seattle, it can be easy to save on your home's energy costs by opting for high-efficiency heating and cooling solutions. A heat pump may be a greatly beneficial addition to your home, serving as an alternative to a central air conditioner to keep you comfortable when temperatures do heat up. Working with Olson Energy Service in the greater Seattle area, you can learn if a heat pump is right for your home after a complete home energy audit, which can pay off with ongoing savings for your heating and cooling costs.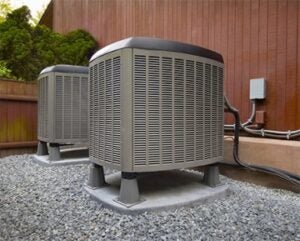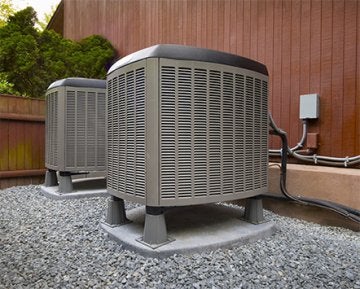 What Is a Heat Pump?
A heat pump works by moving air from one space to another rather than using energy to generate heat or cool down warm air. Heat pumps may be used during the winter or summer months, and they work by transferring cool air either into or out of the house, depending on the season.
How Can a Heat Pump Help You Save Energy at Home?
With a heat pump installed in your home, you can experience optimal comfort at about one quarter of the cost of running an air conditioner or furnace. Here's a closer look at the distinctive energy benefits that you might expect when using a heat pump in favor of conventional heating and cooling appliances.
Reduce the use of conventional heating and cooling systems
By transferring heat instead of generating it, you might reduce your electricity use at home by 30-40%. Not only does this translate to the cost benefits discussed above, but it helps you reduce the carbon footprint of your home to protect the environment for years to come.
Improve efficiency with dehumidified air
In the summer months, a heat pump may be exceptionally beneficial because high-efficiency heat pumps can dehumidify air more effectively then central air conditioning systems. With less humidity in the air, you will enjoy cooler temperatures inside without high energy use.
Ductless Mini Split Systems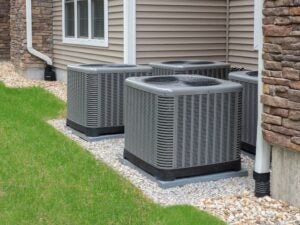 Many homeowners will opt for air source heat pumps, which are the most commonly used heat pumps available. These appliances transfer heat between your house and the outdoors, and they are particularly effective in the temperate marine Seattle climate where there is not a wide variation in summer and winter temperatures. Geothermal heat pumps are also an option, and these have higher upfront installation costs, but they can have a more consistent performance with lower operating costs, because they transfer heat from your house to the ground or a water source, which will have more constant temperatures than the air outside.
In the past, homes required a central HVAC system to provide heating and cooling for multiple rooms at once. However, the advent of the ductless mini-split system has created an alternative choice to window-mounted units that delivers excellent climate control for several spaces without the need for ductwork installation. Today, Olson Energy Service can help you enjoy multi-room heating and cooling with a single ductless mini-split heat pump system in Seattle.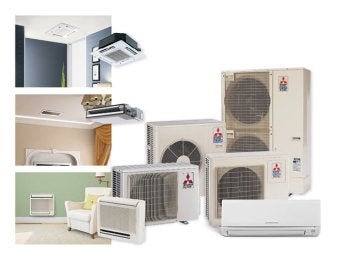 How Ductless Heat Pumps Work
Ductless mini-split systems are quickly gaining popularity across America, thanks to their convenience, their energy-efficiency, and their cost-effectiveness in spaces without pre-existing HVAC ductwork. Installing a mini-split system is an easy and minimally-disruptive process, regardless of whether you are building a new home or upgrading an existing property.
Like conventional central HVAC systems, a ductless mini-split incorporates both an indoor and outdoor component. However, rather than using ductwork to distribute heated and cooled air, the outdoor unit is connected directly to an indoor air handler via refrigerant lines and electrical cabling. These connections often require a hole three inches in diameter or less in the exterior of your home.
One heat pump can provide high-efficiency heating and cooling for one room or several rooms; a separate air handler in each room is connected to the outdoor unit via cables that carry coolant back and forth. Each air handler can be operated manually, or via a control for added convenience and energy savings.
Major Advantages of Ductless Mini-Split Systems
Ductless heat pump systems offer several advantages in the right heating and cooling situation. If you're ready to experience efficient and convenient multi-room heating and cooling, you can learn more about ductless heat pump systems or request home heating and cooling service near Seattle by calling Olson Energy Service today at (206) 782-5522.
Mini-splits can be used in conjunction with your existing HVAC system, offering heating and cooling in a renovated space or home addition without the need to replace your current HVAC appliances or reroute ductwork.
Indoor air handlers can be mounted absolutely anywhere, including floors, walls, and ceilings, allowing you to place the air handler in a convenient location that blends with the decor of your room. This frees up the functionality of your windows and eliminates the unsightly appearance of a window-mounted unit.
Mini-split heat pumps are extremely quiet, further improving indoor comfort by reducing any noise or disruption associated with home heating and cooling.
A multi-zone mini-split offers easy home comfort zoning, allowing you to actively use your heat pump only in the rooms you are occupying to save energy and money.
Why Choose Us?
Family-Owned & Operated
Serving The Greater Seattle Area Since 1926
Experienced & Reliable
Exceptional Customer Service
License, bonded & insured
Factory-Trained, Certified Technicians
Drug-Free Company