Is your fireplace sitting unused because the idea of dealing with the hassle of buying firewood, starting a fire, and cleaning up is just too overwhelming? Fortunately, you can get the best of both worlds with fireplace inserts. Fireplace inserts let you enjoy the cozy charm of your fireplace and maybe even run your furnace less. Give your heat pump a break and cut your heating bills by enjoying your fireplace with one of these fireplace insert options in Seattle .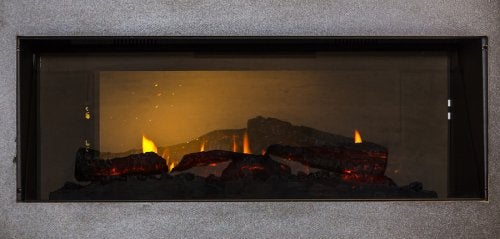 Gas Inserts
Gas fireplace inserts help you retain the charm of your fireplace without the mess. To have a gas fireplace insert, you will need natural gas or propane in your yard that is attached to the fireplace insert. Specially designed ceramic logs sit inside the fire chamber to mimic the appearance of natural logs, and gas-powered flames rise up between the logs, creating a realistic-looking fire. The strength of the fire can be controlled with a remote control, and it can be turned on and off with a light switch. This allows you to easily control how much heating it provides and to adjust it as needed. There are both direct-vent and vent-free options. Direct-vent gas fireplaces use your chimney for venting, while vent-free units are self-contained. Your heating and cooling expert can help you select the right one for you.
Electric Inserts
Electric fireplace inserts are essentially heaters that also have the appearance of flames. They are even available with wood crackling sound effects for a more authentic experience. They don't require a chimney or any venting, so they are ideal if your chimney isn't operational or if you don't want to deal with chimney maintenance. As with gas fireplace insets, they can be controlled by remotes so that you can easily adjust the heat given off. Many people find electric inserts work especially well in fireplaces that are in smaller rooms, such as bedrooms or offices, that can get chilly but may not need the stronger heating power of a gas-powered system.