For many people, the first thing that comes to mind when they need to lower the temperature in their home is to turn on the AC. Many households use air conditioners to stay cool during the summer, but heat pumps near Seattle can provide the same effect while using less energy.
Heat pumps are energy-efficient heating and cooling units.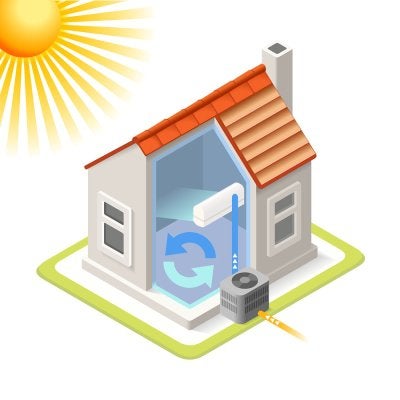 Because of their name, the average person wouldn't expect a heat pump to have anything to do with cooling. These units can have the dual purpose of heating your home in the winter, and keeping it cool during the summer. Heat pumps are units that use a small amount of energy to move heat to a different location. These devices are ideal for use in climates that enjoy moderate temperatures without hot or cold extremes. When installed in less temperate zones, supplemental heating or air conditioning may be necessary.
Heat pumps rely on heat transfer to warm or cool your home.
A heat pump's purpose is to pull heat from the air or the ground, and then move it to another location. These units use mechanical-compression style refrigeration and typically consist of two components. The indoor part, which is called the air handler, contains the blower, which moves air into your home. The outside section, which is the heat pump, resembles an air conditioning unit and is responsible for heat transfer. Heat pumps come in a variety of styles, but their basic principle for operation is heat transfer. In the case of cooling your home, the machine works by pulling warmth from inside the home and moving it outside.
Heat pumps may offer you several advantages.
Heat pumps are single unit devices that are used for both heating and cooling, often making them more convenient to install than an HVAC system. Also, because they run on electricity and do not require fuel to heat or cool a space, they are energy-efficient and can save you significantly energy costs.