Tankless water heating has surged in popularity in recent years as homeowners across the globe seek energy-efficient and space-saving solutions for their households. With a broad range of options available, you may be unsure which tankless water heater is best. Follow this guide to help you understand the fundamentals, weigh the pros and cons, and consider the types of tankless water heaters for your home.
How Do Tankless Water Heaters Work?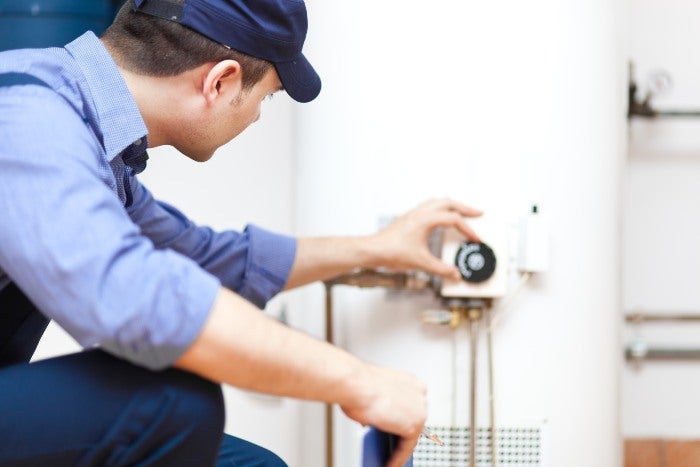 Unlike conventional storage tanks that maintain a large volume of hot water, tankless water heaters generate hot water on demand. They use high-powered gas burners or electric elements to rapidly heat water as it flows through the unit, delivering freshly heated water directly to your faucet without storing it in a tank. This on-demand functionality is highly efficient, space-saving, and eco-friendly.
Pros and Cons of Tankless Water Heaters
Before you decide to switch to a tankless water heater, carefully weigh the pros and cons of this technology.
Pros
Efficiency and savings: Tankless water heaters only operate when needed, making them highly energy efficient. In fact, they reduce energy consumption by an average of 24 to 34 percent, leading to significant utility savings.
Longevity: Tankless water heaters are designed for durability, with a lifespan of up to 20 years—around double that of traditional tank models. This longer operational life adds to your long-term savings.
Small installation footprint: Unlike bulky tank water heaters, tankless units are compact and can be wall-mounted indoors or outdoors, providing more installation flexibility. This frees up valuable space in your home, making tankless units particularly advantageous for smaller residences.
Continuous hot water supply: Because tankless units provide hot water on demand, you never run out, even after extended usage. This ensures a constant supply of hot water for endless back-to-back showers.
Cons
Higher initial costs: Tankless water heaters cost more to purchase and install than traditional models. The potential need to upgrade your electrical system or ventilation setup adds to the upfront costs. Even so, the ongoing energy savings and long lifespan of tankless water heaters can offset the higher upfront costs, making them a financially sound investment.
Limited output: While they provide continuous hot water, tankless heaters struggle to keep up if multiple taps are in use simultaneously. This reduced flow rate could be problematic for large households or homes with high simultaneous hot water demand.
Inconsistent temperatures: If you shut off the water or lower the flow rate to a trickle, the tankless unit turns itself off. This means when you restore the hot water flow, the temperature may drop before it becomes hot again. This inconvenient phenomenon, called a "cold-water sandwich," may still be worth it to enjoy significantly more efficient water heating.
Types of Tankless Water Heaters
Even within the category of tankless water heaters, you have a few styles and fuel types to choose from:
Whole-house tankless water heaters are robust enough to cater to the hot water needs of an entire household. They are installed in a central location, often where your old water heater was installed, and service every faucet and fixture in your home.
Point-of-use tankless water heaters supply hot water to a single point, such as a bathroom or a kitchen sink. They are compact and easy to install within the cabinet or high on the wall. This can be a cost-effective solution for adding hot water functionality to specific parts of your house while eliminating the wait time for hot water.
Electric tankless water heaters are easy to install because they don't require ventilation. However, they may draw substantial power, calling for an electrical system upgrade in some cases. These units are generally well-suited for smaller homes or point-of-use applications.
Natural gas tankless water heaters are more powerful than electric models, capable of supplying larger volumes of hot water. However, they require proper ventilation to ensure safe operation, which limits where they can be installed.
Thermostatically controlled tankless water heaters are sophisticated models that use flow-based power modulation to maintain a more precise temperature despite changes in flow rate. This makes every shower more comfortable and helps prevent scalding at the tap, a significant benefit in homes with young children or older adult residents.
Tankless Water Heater Solutions in Seattle, WA
Olson Energy Service is a trusted name in HVAC, electrical, and plumbing services. We have been serving Seattle since 1926 as a family-owned and operated business. Our skilled and experienced technicians can help you select a tankless water heater and conduct a professional installation, ensuring your complete satisfaction for years to come. If you're ready to go tankless, please call us today at 206.782.5522 or contact us online to request tankless water heater services in Seattle, WA.